Johan Braakensiek
Griffioen Grafiek has all the weekly supplements available that Johan Braakensiek made
for the Dutch magazine "De Groene Amsterdammer" between 1890 and 1930.
These political prints are for sale but we prefer to rent them out for exhibition purposes.
The Netherlands 100 years ago
From January 1st 2002 each week we put a print from 100 years ago on the website.
After 2004 we stopped because of lack of time.
But we think these three years will give you a good picture of that time
and of the talent of Johan Braakensiek.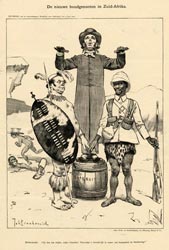 Johan Braakensiek, 9 juni 1901
New allies in South-Africa.