In 2017 it is exactly 100 years since the launch of the Dutch art and design magazine 'De Stijl' (The Style), which was the start of the well-known art movement also known as The Style. Painters Theo van Doesburg, Piet Mondriaan and Bart van der Lek, and the architects Gerrit Rietveld, J.J.P.Oud were the best known artists of this movement and De Stijl's iconic red, yellow and blue palette is still in vogue.

The Gemeentemuseum in The Hague is celebrating this event with exhibitions and also the publication of a book in their series of picture books for children about art and Joost Swarte was chosen to do the book about De Stijl. He drew 10 images of how he thought the studios of De Stijl's artists would have looked like. In every drawing he sends his red cat to go research.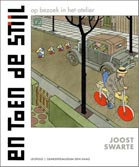 Gift tip
Of these drawings we made beautiful giclée prints on luxury 350 grams Hanemühle museum etching paper. Size 60 x 60 cm. Edition of 100 numbered and signed copies.
Price giclée print € 175.
And we have also published eight of these drawings as poster. Size 50 x 70 cm.
Price of a signed copy € 35. Unsigned € 19.95.
Theo van Doesburg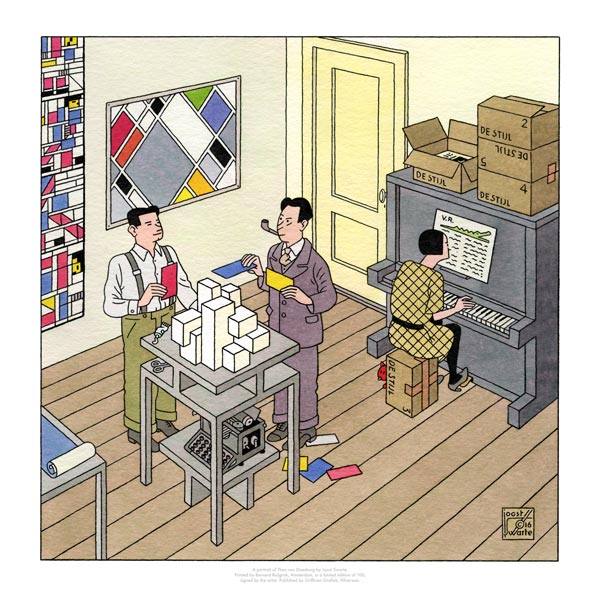 Theo van Doesburg started as an artist of landscapes and portraits. Gradually his work became more abstract, and he developed a preference for straight lines and basic colors that matched modern life.
He wrote, photographed and designed buildings and interiors. In 1917 he founded the monthly De Stijl magazine, which appeared in a small edition for fifteen years.
Artists and designers joined. De Stijl grew into a movement of international importance.
Vilmos Huszár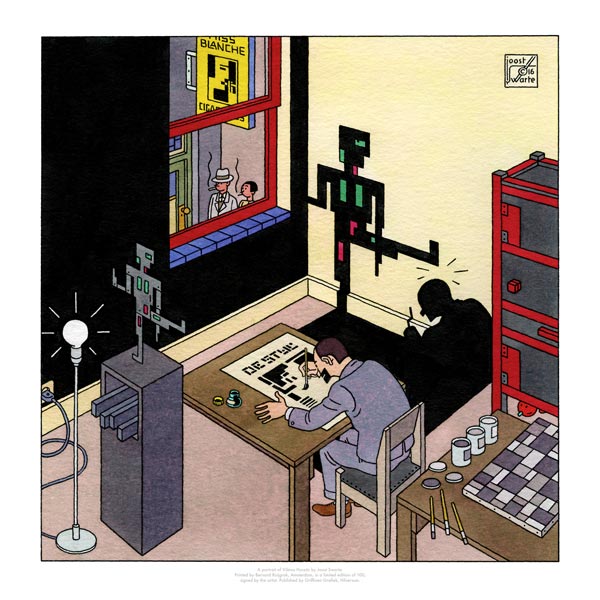 Vilmos Huszár was a painter, artist and sculptor. He also looked for new forms. An abstract representation touched the core more than just post-painting.
Van Doesburg asked Huszár to design the logo for the magazine De Stijl. He also applied the new ideas in advertising drawings, and designs for manufacturers and the theater.
This way De Stijl became more and more visible in daily life.

Bart van der Leck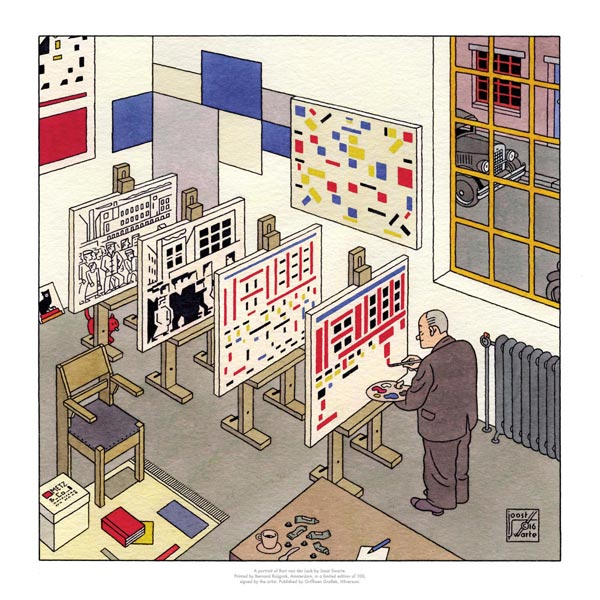 Bart van der Leck painted the daily life and the working man, looking for new beauty by reducing reality to cubes and squares.
They were set up separately and as openly as possible, in bright colors that beamed to the viewer: yellow, red and blue, supported by black. Color had to be able to move the space.
De Stijl took over his color palette, but Van der Leck felt misunderstood and soon decided to go his own way.
Gerrit Rietveld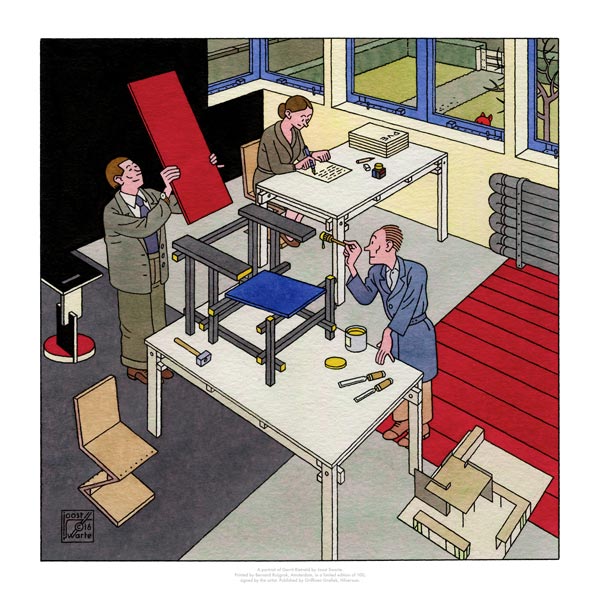 Gerrit Rietveld started out as a furniture maker. He built new furniture for friends and acquaintances which looked different from what they were used to. Simple and cheap to produce chairs and cabinets, unpainted in the beginning.
From 1918, his children's furniture was the first to receive a cheerful color and in 1923 he applied the colors of De Stijl to his famous red-blue chair.
He became an important architect when in 1924 together with Truus Schröder he designed a modern house for her.
Bauhaus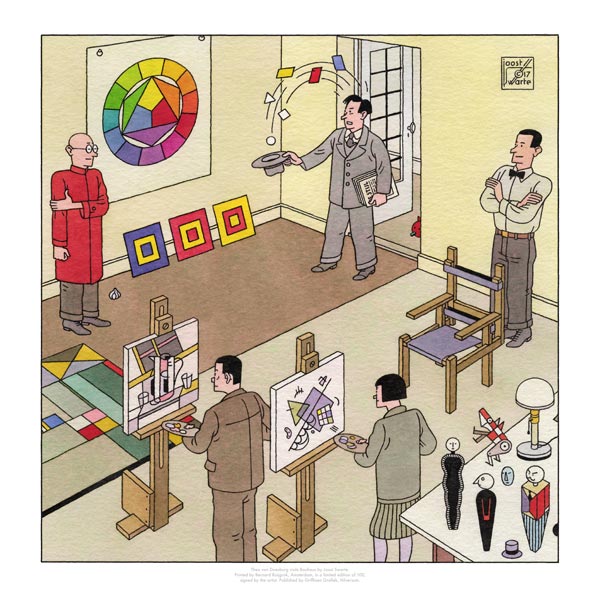 The students of art education Bauhaus in Germany were taught color, form and the development of their creativity. Director Walter Gropius invited Theo van Doesburg to come to Weimar.
In 1921-22 he gave lectures in his own flat, because his personality and theories clashed with those of lecturer Johannes Itten.
The modernity of De Stijl can be seen with architect Ludwig Mies van der Rohe and furniture designer Marcel Breuer.
J.J.P. Oud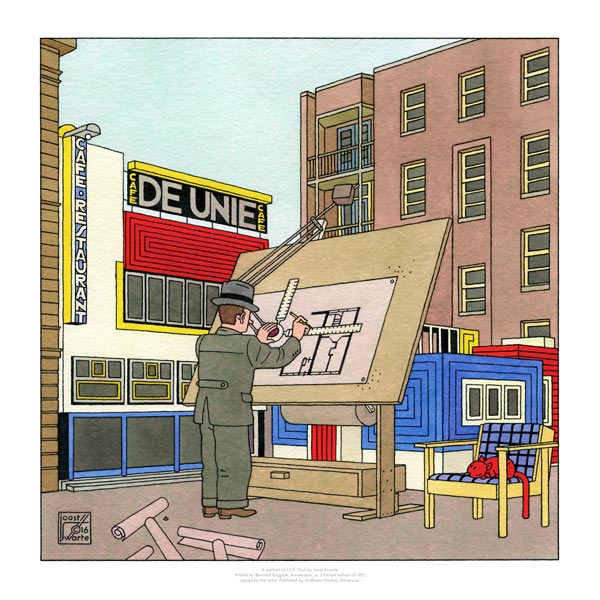 J.J.P. Oud was looking for new forms for the modern era as an architect.
He was interested in industrial techniques and designed simple homes that were easy to build together; modern houses for the common man.
He applies the colors, lines and geometric surfaces of De Stijl to for instance a construction site in Rotterdam and the famous Café De Unie.
Ko Verzuu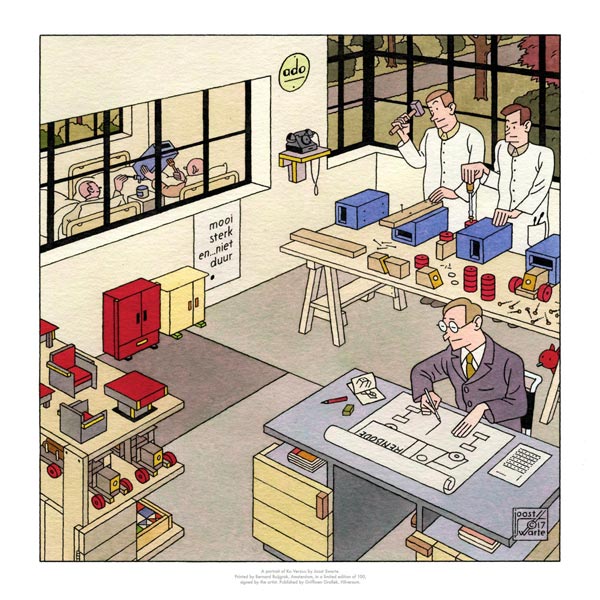 Ko Verzuu was supervisor in the construction industry until he was given the lead in the workshop of a sanatorium. The patients were kept busy making wooden toys, among other things.
Verzuu admired the clean lines and colors in the work of Gerrit Rietveld, and applied them in his designs of wooden block boxes, cars and dollhouse furniture, which were sold under the name ADO.
In this way, the modern style also captured the nursery.
Joaquin Torres García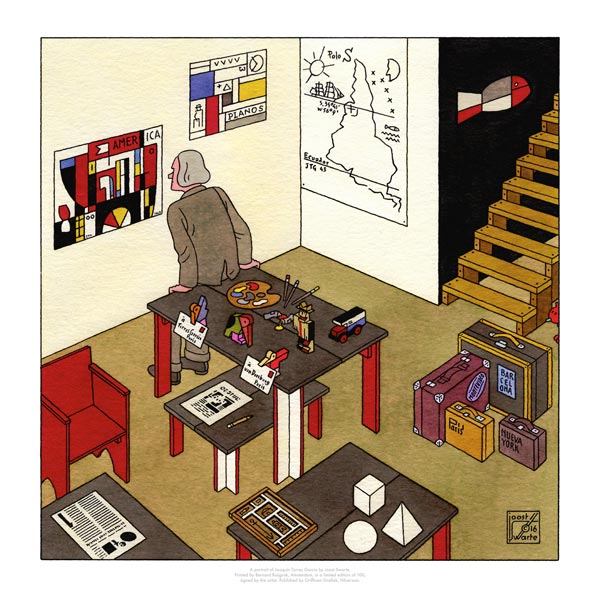 Joaquín Torres García attended the art academy in Barcelona. He worked in Paris and New York, where he made money with making toys.
Back in Paris he met Van Doesburg and Mondrian. He shared their preference for simple shapes and colors, and wrote letters with Van Doesburg.
Joaquín Torres García founded his own magazine: Cercle et Carré and developed a visual language based on simple drawings. Later he returned to his native Uruguay.
Piet Mondrian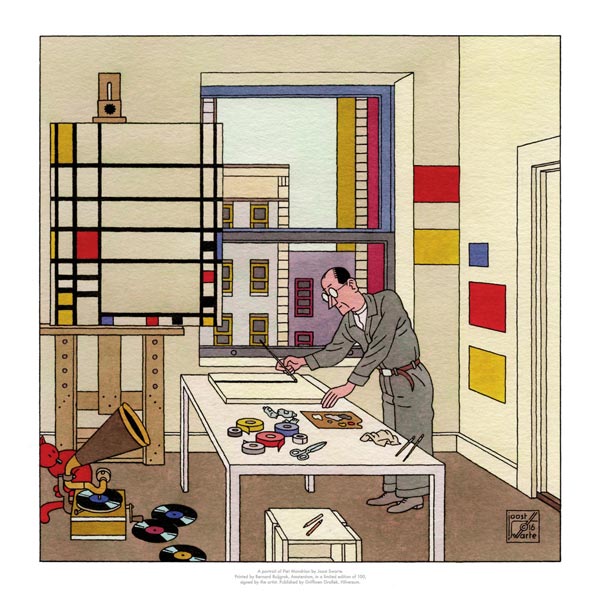 Piet Mondrian started painting to nature. His landscapes became increasingly abstract under the influence of cubism, to compositions of lying and standing surfaces and lines.
When he met Bart van der Leck in 1917, his modern use of color made a deep impression on him. Mondrian also switched to red, yellow, blue, gray, black and white.
He experimented throughout his life, striving for the purest abstraction.
Piet Zwart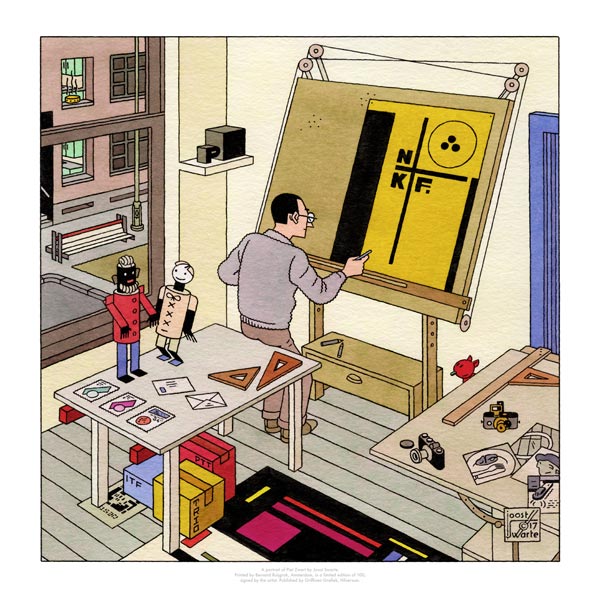 Piet Zwart wanted a new world with simple forms, accessible to everyone. He drew, photographed and designed printed matter for factories.
He worked for assignments early on with Vilmos Huszár, who gave his designs color. For the PTT he designed stamps, using photos for the first time.
And a booklet for children explaining how to send letters and parcels by post. It was distributed in schools for free.
More information about the items in the drawings